K3 and the Magic Medallion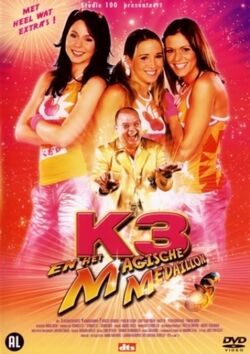 General Information
Other Information
Family & Friends
Series Information
K3 and the Magic Medallion, originally K3 en het Magische Medaillon, is a movie aimed at children starring K3. The movie is directed by Indra Siera, based on the script Gert Verhulst, Danny Verbiest and Hans Bourlon wrote. The film first premiered in 2004.
The story
Edit
The girls decide to make their dreamhouse perfect, but they don't know that somewhere inside their house, a medallion is hidden. Only Gazpacho, an international wanted criminal, knows about the existence of it. He would do everything to get it, but that might not be as easy as it seems with three singing girls in the house.
Ad blocker interference detected!
Wikia is a free-to-use site that makes money from advertising. We have a modified experience for viewers using ad blockers

Wikia is not accessible if you've made further modifications. Remove the custom ad blocker rule(s) and the page will load as expected.